Scotland's Saltire Scholarships is a programme of scholarships offered by the Scottish Government in collaboration with Scottish universities and colleges.
Scotland's Saltire Scholarships are an incredible opportunity to study in a country with world-leading universities and a long tradition of academic excellence. Our chosen scholars are people who aspire to become influential leaders in their future careers. They have wide ranging interests outside their studies and a desire to broaden their personal and academic experience in Scotland.

Find out more about the study options available
CANADA, CHINA (INCLUDING HONG KONG), INDIA, JAPAN, PAKISTAN AND USA STUDENTS
The scheme offers up to 50 awards, each worth £8000, towards tuition fees for any one year of full time study on a postgraduate Masters programme at any of Scotland's higher education institutions.
Scholarships are available to citizens of the following countries: Canada, China (including Hong Kong), India, Japan, Pakistan and USA.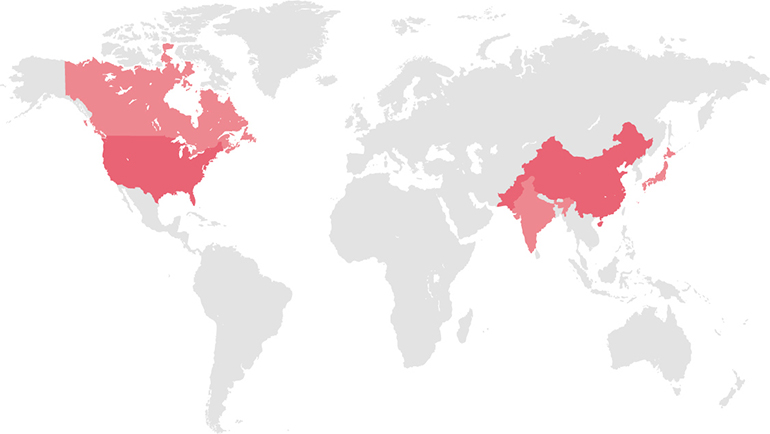 Saltire Scholars will also have the opportunity to take part in a programme of activities over and above their studies, including dialogue with the academic and business community in Scotland.
As one of our Saltire Scholars, you'll act as an ambassador not only for the Saltire Scholarships programme, but also for Scotland. You can find out more about these aspects of the scholarship in the requirements page.
In order to apply for a Saltire Scholarship candidates must have a conditional or unconditional offer of a place at a Scottish university on an eligible course. See the full list of eligibility criteria.
Applications for the Saltire Scholarships programme are welcomed from 6 April 2022 by students from Canada, China (including Hong Kong), India, Japan, Pakistan and USA. The deadline for all applications is midnight (BST) on 12 June 2022.